Welcome to the resources page. Here you'll find different tools and resources that will help you and your business operate more efficiently.
There is access to courses and information here that will help you build your knowledge and skills base while others are designed to help you in your business directly.
These are the same tools and resources I use in my business, so I am more than happy to recommend any of them. I like to support my partners as this helps build relationships and allows for continued improvements in the products and services we rely on to run our businesses.
Some of these links are affiliate links, so I greatly appreciate your support when using these services as well. Thank you!
Fiverr is one of those companies than never seems to stop growing. They offer a huge array of services that can be used by any business the world over, big or small.
When it comes to doing anything you could possibly need to be done in the digital realm, Fiverr are the Kings! (…and Queens!) …and they're cheap as well!
They offer everything from logo and graphic design services to video voiceovers, digital marketing, writing, automation, photography, music, and a whole lot more. They also have a learning hub of courses that will teach everything you need to know about running and marketing an online business.
Browse the courses they have on offer below or get a professional freelancer to do the work for you.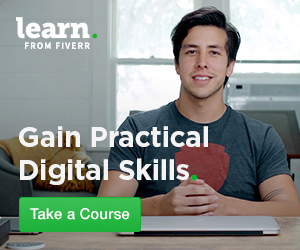 Landing Page:
https://track.fiverr.com/visit/?bta=107917&nci=6968
If you want to build a beautiful website, a blog page, or an app of your own, then you can't go past WordPress. Beautiful designs, powerful features, and the freedom to build anything you want, WordPress is both free and priceless at the same time.
WordPress uses open source software that is created by thousands of developers all around the world for use by anyone wanting to take complete control of their most valuable asset, their online business "home!"
With over 60 million users, WordPress is trusted by some of the biggest names in the world. From small to medium businesses to big multinational companies, WordPress gives them the freedom to do what they need to do to succeed online.
WordPress can be extended with over 55,000 plugins to help your website meet your needs. Add an online store, galleries, a mailing list, analytics, forums, and a whole lot more.
See for yourself what the world of WordPress can do for you.